Four Tips for Pricing Direct-to-Patient Services
By: Sesame and NantHealth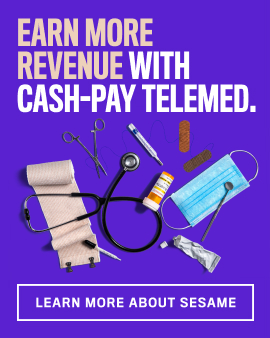 Adding direct-to-patient care can make a world of difference for doctors. Platforms like Sesame enable you to take control of your practice, increase your revenue, and foster a more direct relationship with your patients.
For doctors like Dr. Allison Edwards, the founder of Kansas City Direct Primary Care, the switch to direct-to-patient care came from her desire to better serve her patients. "I entered the world of direct-to-patient care," Dr. Edwards says, "because I wanted to ensure patients were given reasonable, fair prices for high-quality primary care."
"How do I price my services?"
Figuring out how to price your visits, procedures, and services is often the first challenge faced by doctors adding direct-to-patient care. "I found that I couldn't compete with bargain pricing, but I also didn't need to be charging the outrageous fees hospitals often charge," Dr. Edwards says. "But I found that there was a reasonable price in the middle that allowed us to keep our doors open, pay our overhead, and meet payroll costs while also allowing patients to have affordable care."
Here are four tips to help you grow your practice, increase your revenue, and navigate the challenges of pricing direct-to-patient services, procedures, and more."
Provide fair, transparent pricing.

Surprise medical bills and hidden fees are unfortunate realities of American healthcare that plague nearly every patient and doctor. As a doctor engaging directly with patients, setting fair, transparent prices will feel like a welcome change to patients often confused by the cost of healthcare. "Providing a fair, transparent price can lead to a much smoother process," Dr. Edwards says. "Part of doing no harm is, in fact, doing no financial harm."
Price your services competitively.

Transparency shouldn't come at the expense of your bottom line, so you should still price your services competitively. "When pricing healthcare services transparently," Dr. Edwards says, "it's important to remember that chargemaster rates are—by design— egregiously higher than anybody should, or will, pay." Dr. Edwards recommends that doctors focus on setting a price that is "affordable yet allows for enough margin to keep your practice open to continue to serve patients."
Be clear about what is and what isn't included in your price.

Do your best to make sure patients know exactly what's included in the cost of a visit or procedure. Be upfront with expectations in a way that is clear and digestible for patients, without too much medical jargon or confusing language. "In medicine, trust is paramount," Dr. Edwards says. "It's important that patients know what to expect."
Test your pricing to see how the market responds.

Healthcare isn't one-size-fits-all. That's true for pricing, too. "You won't always know the right price at the start," Dr. Edwards says. She recommends you begin by creating a base price tied to an anchor, like a percentage of Medicare, chargemaster rates, or even the percent of the cost of procuring the item or procedure you're listing.

Still, Dr. Edwards cautions doctors against committing to a price without the option of changing it down the line. "Even pricing a relatively clear-cut item takes some tinkering to find the right price," Dr. Edwards says. "So, you have to balance patient affordability and covering your overhead."

Take casting material for example. It's relatively inexpensive, but there are a number of variables that impact the process: paying for the expertise of the clinician ordering the cast, the skills of the technician applying the cast—and that's before you get into the cost of tools to remove the cast later on. "Be certain to account for the total cost of a procedure or product," Dr. Edwards advises. "Otherwise, you might not be around long enough to provide continuity for your patients."
Adding direct-to-patient care and using these tips can revolutionize your practice. Click here to learn more about how NantHealth and Sesame are coming together to empower providers with the direct-to-patient tools they need to better serve their patients.
---
Learn More
Contact Sesame today to learn how you can start to build your practice and provide access to high quality care.
---
Related Articles
---
Subscribe to Our Blog
Stay on top of the latest industry insights and thought leadership from NantHealth.
Subscribe Now