Four Reasons Doctors, Nurses, and Clinicians Are Turning to Direct-to-Patient Healthcare
By: Sesame and NantHealth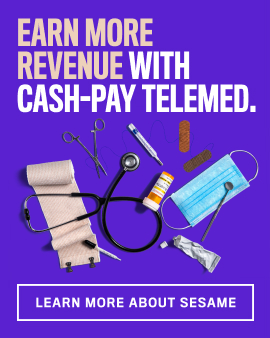 By August of 2020, nearly 12 million Americans had lost their health insurance. As the virus resurges in nearly every state—and the economy adapts to this new reality—that number continues to grow. Such drastic changes to the insurance landscape have upended decades-long trends in healthcare to make way for new, innovative solutions to meet the complexities of our moment.
Key among these changes is the advent of direct-to-patient healthcare, which seeks to address unmet patient needs by connecting patients and healthcare providers, physicians, doctors, and clinicians directly—outside of the traditional healthcare system.
Direct-to-patient healthcare creates a range of benefits for patients—namely greater accessibility to quality healthcare—but it also provides significant benefits for clinicians and healthcare providers.
We talked to Dr. Allison Edwards, founder of Kansas City Direct Primary Care, about why she made the switch to direct-to-patient healthcare, how it's changed her practice, and why she recommends it to doctors, nurses, and clinicians alike.
Payment is faster, easier, and simpler.
Billing can be a huge hassle for any clinician. By dealing with patients directly, clinicians can avoid delayed payment and complicated billing to create a faster, easier payment system. With direct-to-patient healthcare, clinicians can get paid instantly at the exact fee they set.
You—and you alone—dictate the clinical care of your patient.
Direct-to-patient care empowers you to better dictate the clinical care of your patients. Without intermediaries—be it a hospital system or insurance company—treating patients directly frees you to keep important decisions about a patient's care between you and your patient. "The direct payment model takes the doctor-patient relationship back to its roots—back to when we treated patients with respect, and they trusted us to take care of them," Dr. Allison Edwards said.
You have opportunities to innovate within your practice and career.
Without large hospital systems of third parties to dictate when you work, how you work, and who you work with, direct-to-patient healthcare puts doctors back in the driver's seat. This renewed control gives doctors and clinicians the freedom to be innovative and experiment within their practices and careers to better serve their patients and grow their practice.
You can establish more trust between you and your patients.
In a direct-to-patient healthcare environment, you maintain control over your practice, pricing, and more. Patients know—and appreciate—the transparency, honesty, and trust that comes with dealing directly with clinicians. "In a direct-pay model, you are able to be wholly present and available to take care of your patients," Dr. Edwards said. "The expectations are clear, the price is transparent, and the ultimate relationship is between the physician and patient—without any intermediaries."
As healthcare continues to innovate to meet the challenges of patients and clinicians alike in the post-COVID-19 world, clinicians like Dr. Allison Edwards continue to move out of traditional healthcare into a direct-to-patient model to better serve themselves and their patients. "It feels very freeing," Dr. Edwards said, "for both myself and my patients."
Click here to learn more on how NantHealth and Sesame are coming together to empower providers with the direct-to-patient tools they need to better serve their patients.
---
Learn More
Contact Sesame today to learn how you can start to build your practice and provide access to high quality care.
---
Related Articles
---
Subscribe to Our Blog
Stay on top of the latest industry insights and thought leadership from NantHealth.
Subscribe Now