Five Things to Know About Direct-to-Patient Care
By: Sesame and NantHealth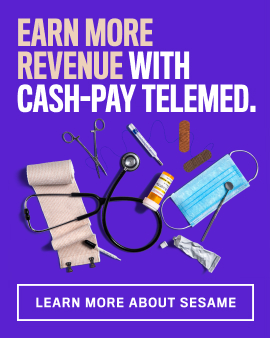 This past year, the U.S. healthcare system has demonstrated its innovation and resilience by quickly adopting the latest technologies and developing convenient and affordable solutions for patients.
One of the most promising solutions is the growth in direct-to-patient care – which has accelerated as the 12 million Americans who lost their employer-provided insurance in 2020 begin looking for alternatives. Direct-to-patient care, which connects doctors directly to patients – without third-party payers – is already changing the way patients and doctors think about the 520 million primary care visits booked each year in the United States.
As the trend continues to point toward an increase in this new way of treating patients, here are five things you need to know about direct-to-patient care to keep ahead of the curve and ready to find, treat, and acquire patients.
Doctors set their own prices: Since direct-to-patient payment is not based on pre-negotiated reimbursement rates, doctors who engage in direct-to-patient care can set their own prices. This allows doctors to determine their own strategy for setting prices for their time and services. For example, some doctors charge a higher rate for the first visit with a new patient – and lowering their prices for returning patients – to encourage an ongoing doctor-patient relationship. In a direct-to-patient care model, doctors can continue to do that – or experiment with different pricing models.
Doctors can create and experiment with their own services: Direct-to-patient means doctors can shape their practices in any ways they see fit. They can create new services to better serve their patients and communities. Experiment with new service offerings or bundled pricing – such as primary care consults, wellness visits, vaccine updates, and lab work. The opportunities are endless.
Any specialty or specialist can treat patients directly. Certain specialties have already adopted this new model – especially those who are often not covered by insurance. This includes dental, mental health, and others. While there is an obvious advantage for those whose patients are more often direct-pay, the advantages remain for those treating a mix of insured, high deductible, and uninsured patients.
Doctors get paid faster: Because payments are made entirely in cash, doctors don't have to wait for reimbursement checks to come through to get paid. As long as you ask for payment upfront, you should expect to be paid for your time and care significantly faster than if you were to wait for reimbursements.
Doctors collect more per service: Taking into account the rate of in-network claim denials (18% in 2017), non-payments from patients (over 68% of patients with bills of $500 or less did not pay their patient financial responsibility in 2016), doctors can expect to overall collect more per service with direct-to-patient, since payment from the patient is made up front.
Direct-to-patient care is one of the most important changes to explore as doctors, clinicians, and healthcare providers move into the post-COVID-19 world. Click here to learn more on how NantHealth and Sesame are coming together to empower providers with the direct-to-patient tools they need to better serve their patients.
---
Learn More
Contact Sesame today to learn how you can start to build your practice and provide access to high quality care.
---
Related Articles
---
Subscribe to Our Blog
Stay on top of the latest industry insights and thought leadership from NantHealth.
Subscribe Now