5 Questions to Ask When Choosing a Telemedicine Platform
By: Sesame and NantHealth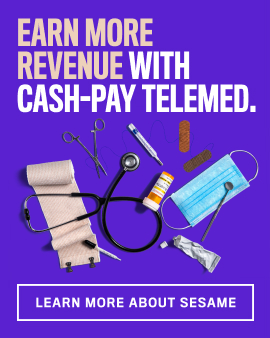 2020 was a watershed year for the healthcare industry—particularly with telemedicine. Over the course of the year, virtual doctor visits transformed from an infrequent—if not futuristic—part of medicine to one of the fastest-growing industries in healthcare. Before COVID-19 arrived in America, only 8% of patients had ever tried a telemedicine doctor visit. Now, the telehealth market in the United States is estimated to display seven-fold growth by 2025, resulting in a five-year compound annual growth rate (CAGR) of 38.2%.
Along with the skyrocketing demand for virtual care, a number of telemed platforms have emerged, allowing patients and doctors to connect remotely. Deciding which platform to join can be a challenge. Here are 5 questions to ask when picking a telemed platform:
Will it cost me anything?
Telemed platforms can be a great source of added revenue, but costly fees and hidden charges can reduce your cash flow and eat away at the fee you set for a given service. To avoid these kinds of fees, you'll want to ask your telemed partner upfront if they charge clinicians any fees, or if they somehow absorb a portion of your fee. Finding platforms like Sesame that don't charge clinicians any fees can help you keep 100% of your listed fee, without passing on the revenue to a platform or third party.
Do I have to use an app or proprietary software?
Each telemed platform functions differently, and some impose restrictive guidelines that compel both doctors and patients to use proprietary video software within a platform's system. While beneficial for doctors who do not have a preferred software or video platform, using a particular app can cause hiccups for patients and doctors, and sometimes cause more harm than good. Finding a partner like Sesame, which gives you the freedom to use the video platform of your choice, will help set up your patients' success for the long term.
Can I control my hours?
When deciding which telemed platform is right for you, ask yourself how important managing your own time is. Some telemed platforms require you to work specific hours, while others—like Sesame—give you the power and flexibility to set your own hours and work when you want, how you want.
Can I control my prices?
Billing can be a huge hassle for any clinician. By dealing with patients directly, clinicians can avoid delayed payment and complicated billing to create a faster, easier payment system. With direct-to-patient healthcare, clinicians can get paid instantly at the exact fee they set.
How frequently will I get paid?
Joining a telemed platform is a great way to increase your revenue with more flexibility, or supplement your existing practice with telemed visits outside normal work hours. But it's important to know upfront when and how you're paid, as every telemed platform is structured differently. Sesame, for example, pays doctors directly every week through direct deposit, without any lags, delays, or extra fees.
Deciding where and how to list your services is a question any doctor switching to telemed needs to answer. Asking the right questions and arming yourself with as much knowledge upfront, will help you find a platform that fits your specific needs—and empowers you with the freedom to grow your practice, increase your revenue, and control your time, pricing, and services.
Click here more information about Sesame.
---
Learn More
Contact Sesame today to learn how you can start to build your practice and provide access to high quality care.
---
Related Articles
---
Subscribe to Our Blog
Stay on top of the latest industry insights and thought leadership from NantHealth.
Subscribe Now